Reviews – Testimonials – Houston Landscapers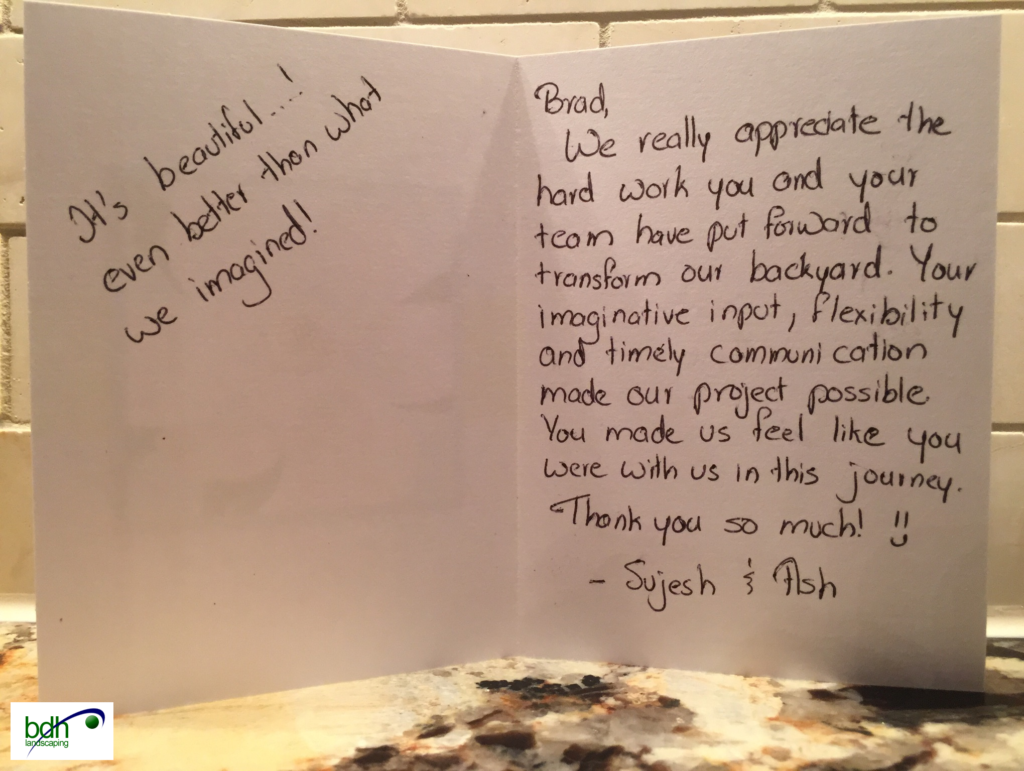 Here are some comments from many of our local Houston clients where we have worked on a variety of Houston landscaping projects:
What a beautiful job you did with the landscape lighting, I have had so many compliments everyone in the neighborhood wants to lights in their yards. My home was so dark at night the street lights were not enough, now I can see my driveway and yard when I leave for work at 0400 hrs, making such a difference adding security and it looks beautiful. Thank you for your beautiful design and the light fixtures are fabulous, never dreamed that with the power box would totally be out of sight. You were on time and did exactly what you said you would do.
Very reasonable and I really like that I can add more lights. Thank you again it has been a pleasure. – Cinco Ranch Katy Texas
---
 "I wanted to tell you how pleased we are with our backyard! It looks great! Your workers were very nice . We look forward to working with you in the future. Have a great weekend! Thanks again!" – Linda Walker
---
 "I just want to thank you again for the wonderful work you and your team did at my home. Everything is beautiful. You clearly understood the look I was going for and balanced those ideas with my "lack of a green thumb." Everything looks lovely, and I now have the prettiest entry in my neighborhood!! I can't wait until it grows and fills out a little more. It's going to be awesome!!" – Dianna
---
 "I wanted to say thank you again for my "awesome" yard. We absolutely love it! It is so us. You really listened to what I wanted and I appreciate it. Looking forward to our next project with you!" – Dana W.
---
 "Love it, love it, love it! I was just awarded Yard Of The Month and I couldn't have done that without you! I love all the different colors, the textures and the plant choices overall. Thanks again, Brad for everything." – Beverly B.
---
 "Thanks so much for the work that was done yesterday. The house looks great! We love it! Thanks for the cheat sheet. I will study it intensely as I will be the one tending to the yard! I spoke to Katie who said you stopped by this morning and talked with her at length regarding the landscaping and the maintenance. I have no problem suggesting your landscaping services to any of my friends and family or anyone who is looking. We are very happy with the job!" – Brian H.
---
 "I just wanted to let you know that I am very happy with the landscaping design you created for my home. It looks great! I am impressed with the rock wall – It is obvious that you and your team meticulously placed every rock; it looks perfect. The plants you selected are gorgeous. I also wanted to thank you for the extra grass you laid throughout my lawn. My yard was a little distressed after the installation of the irrigation system (as was to be expected), however the new grass will help it get back to normal in no time."
---
 "I was very impressed with your expertise and your commitment to creating a lovely design Thank you for all your time and effort – I appreciate all your efforts, especially your willingness to "make it happen." My schedule was a little chaotic, so I appreciate your patience. I would surely recommend you to anyone. Now I can say I have the best yard in the block. It is just a matter of time before the neighbors try to compete 🙂 Thanks again." – Sincerely, Veronica P.
---
 "Love the landscaping plan you designed. My backyard was so boring and barren, without a shred of color or life before placing the trees, plants and shrubs. I kept all the window blinds closed that looked out upon that area due to the depressing scene of nothingness with only an aging fence. Am so amazed how completely different and inviting the whole area has become since the implication and installation of your artistic ability. Now, it is truly a pleasant sanctuary; a place to which I can retreat and thoroughly enjoy while reading, entertaining or relaxing in my own "outback"!
---
 Thank you BDH Houston Landscaping for brightening up my view! " – June
---
"I just want to say MY HOUSE LOOKED SO AWESOME when I pulled in last night! I had to just go stand outside and take it all in! Thank you for everything!" – Thanks, Kathy