Houston Front Yard Landscaping
Traditionally, front yards serve two main purposes: providing an entrance to your home & creating curb appeal
A well designed front yard landscape, with appropriately sized and placed elements, will indeed increase the curb appeal of your home
The landscaping should put your home on display by complementing its architecture and welcoming visitors
The front yard is your home's calling card. Make a huge street side impression with the right flowers, plants, landscape, hardscape and lighting
Each home and its landscape should be a reflection of the people who live there. The front yard is the visitor's first impression of the home and its inhabitants. When first seen, it should be inviting and direct the guest easily to the front door
The front yard is the place most people fix first – and for good reason. Often it is what others see and what the family sees most of the time
Streetscaping is an excellent investment in both present enjoyment and future value. A pleasant view from the street gives a sense of individual pride and accomplishment. It adds greatly to your property's value by setting the yard apart and making it beautiful. BDH Landscaping can do this by way of: plants/shrubs; planning a functional entryway – dramatize the front door with accent shrubs, urns and lighting; edges and borders – draws your eye up to your entryway and gives an important outline to your yard; use of design principles of unity, simplicity and balance by choosing the right plants for proper scale to create an esthetically pleasing landscape
The builder's bit of lawn, two trees, and a few foundation shrubs fall far short of existing possibilities for your front yard
Landscaping Options:
Landscaping options for enhancing the front yard abound. You can choose a formal look with a courtyard circling a fountain, or you can go more natural, with a meandering pathway lined with native plants. You can even create a private space for outdoor entertaining. Whatever you decide, BDH Landscaping can help plan the look you want and achieve it. Our design team will work with you to be sure you will get a front yard landscape you love.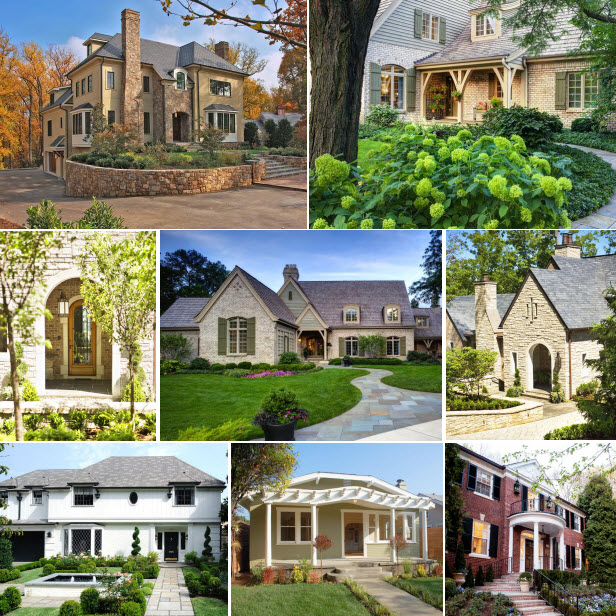 Options to Consider:
Create privacy to separate a front yard from the road and neighbors by way of retaining walls and plant materials
Create a grand entrance with a wide walkway, arbor, fountains and lighting
Extend front beds for dramatic appeal
Add lighting for drama, accent and security
Three components of good entryway design include:
Planning for vehicle circulation and parking
Creating a beckoning walkway to your front door
Accenting the front entry
Four most important design considerations for front walkways:
Width
Shape
Paving materials
Lighting
Planning your Houston front yard design:
Before purchasing any new plant material for the front yard, it is essential to evaluate what already exists. BDH Landscaping will take an inventory of what you have, what works in the landscape and what needs to be changed. BDH will evaluate your home, consider the architectural style or character of your home. Is your home one-story or more? Is it rustic or formal, modern or traditional? One of the goals of BDH Landscaping is to use landscaping to draw attention to your home in much the same way that an attractive frame enhances a picture. The most effective landscape shows a definite relationship to the style of the home.
The landscape should reflect something of the character of those who live there. While it is important for the front yard to be visually compatible with the neighborhood and conform to any HOAs; the choice of plants and structural materials such as boulders, pavers, fountains, can be unique to you.
Applying Basic Principles to the Front Yard Houston:
Functional Principles: Landscaping should be more than just window dressing for the house. A good landscape design makes the space useful. Generally, the front yard is considered the public area of the residence. As such, this area has two primary functions:
Present an attractive appearance to the neighborhood
Get people safely and easily from the street to the front door
Traditional landscaping practice is often limited to "foundation planting." This usually consists of lining the foundation of the house with a row or two of shrubs – usually evergreen. This type of landscaping is used by many builders in our area and lacks interest and individuality. Ideally, the front yard should contain an element of uniqueness and should relate to the architectural character of the house and the style of the owners, while maintaining visual compatibility with the neighborhood.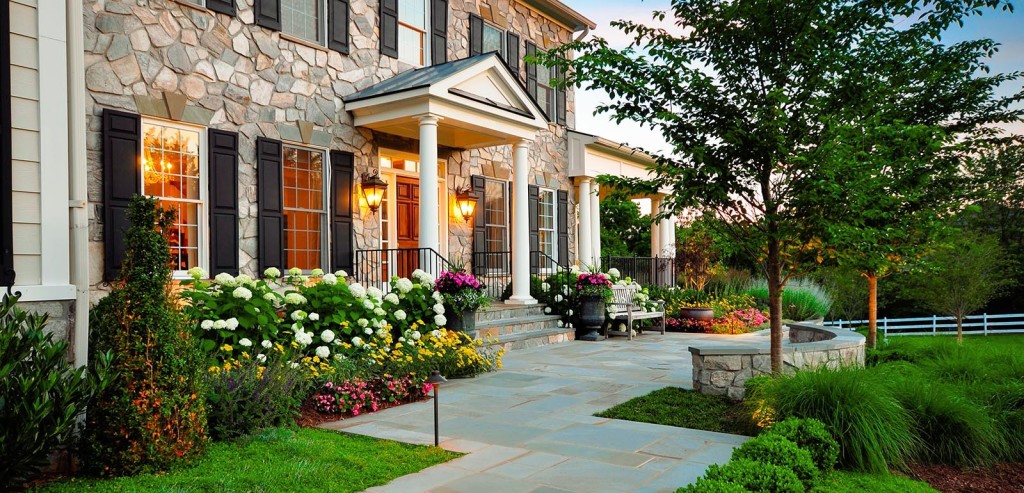 Landscaped correctly, the front yard will be attractive and provide interest all four seasons of the year.  BDH Landscaping does this by:
Design principles of unity and symmetry of material
Create interest – focal point being the entryway
Placement of landscape elements
Defining borders and beds
Use of Accent and Specimen plants
Use of proper outdoor lighting for accent and security
Curb Appeal:
Curb Appeal is essential for selling your home for top dollar. Most of the time, potential buyers or renters will make a judgment on a house within 30 seconds of seeing the exterior. Nearly every homeowner wants curb appeal. Maximizing your yard's attributes and minimizing its problems to create a beautiful street side view is something that BDH Landscaping can work with you to create.
To create curb appeal, make use of the following:
Well maintained and colorful plant beds
Well manicured lawn
Use of potted plants near front entry or porch
Replace old walkways
Install outdoor lighting near entry door and in beds
Regardless of your lot size and your home's location, implementing some of these steps will provide your home with a landscaping face-lift and increase your home's curb appeal and value.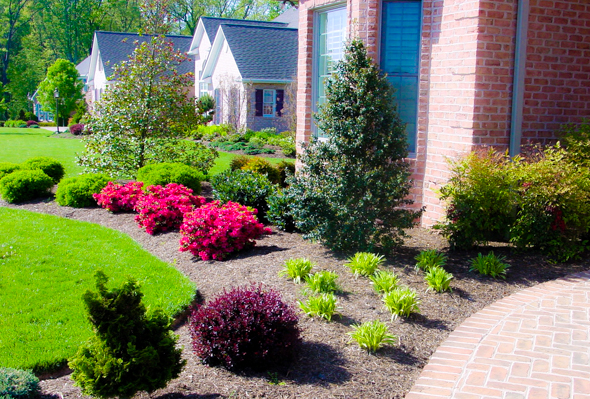 Tips for Curb Appeal:
Consider the house – Lots of people look at the size of the lawn or the shape and slope of the front yard, but many forget a critical consideration in landscaping for curb appeal – your house. You have this enormous design limitation and you need to design for curb appeal based on the size and shape of your house and how it relates to the street
Work with masses and shapes – to create a landscape for curb appeal. If your house is big and you want to plant lots of little prettily flowers – they will get lost from the street. Instead, use plants and repetition – midsize shrubs to line a path, or a row of shrubs. People will not see individual flowers by driving by. They will see the impact of a plant grouping that reflects the shape and lines of the house and walkways.
Use secondary hardscape elements – to help design a landscape for curb appeal. A deep walkway, for example, offers an opportunity for a wider flowerbed as accent. A bench or water feature provides a place for a gathering of shrubs and perennials. BDH Landscaping can work with you to use what you already have along with additions to spotlight your front yard
Emphasize the rite of passage – Landscaping for curb appeal is ultimately about moving to the door in a pleasing way. You have to be mindful of the experience from the street to the door. Think about what kinds of transitions are available and whether there is way to break up the trip without destroying the necessity of people seeing very clearly where to go. This may include a new pathway, water feature, use of urns and lighting.
Turn to the color wheel – The color of your house should be a consideration in choosing plants to landscape for curb appeal. For example, red brick will pop with flowers/plants in orange, bright yellow and red. The house really will dominate everything and if the garden does not go with it, it might be because of color.
Include "big" things were appropriate – most of the time, people will see your house and judge its curb appeal quickly, either on a walk or drive by. Large shapes and masses that are attractive from a distance should be a part of a landscape with curb appeal
Think through the seasons – A landscape that goes dormant in the winter will look foreboding and uninviting. A landscape with curb appeals includes structural plants such as trees and shrubs, as well as, plant material that will look good in the spring, summer, fall and winter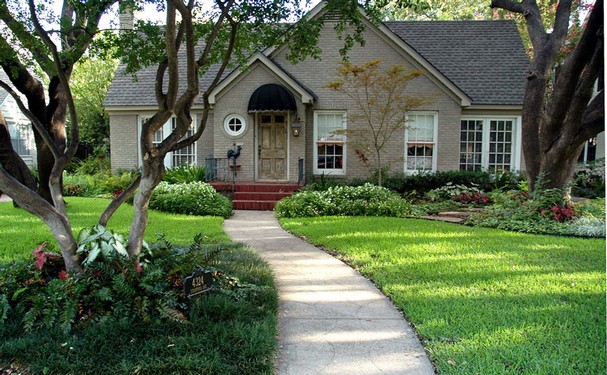 Landscaping Mistakes that Wreck Curb Appeal:
Planting without a plan – Some landscaping choices can last one season (poorly placed flower/annuals); others a lifetime (trees). Take the time to plan a yard that gives you maximum enjoyment and curb appeal. BDH Landscaping can design the right plan for now and the future.
Too much togetherness – Planting in clusters looks much better than installing single plants, soldier-like throughout your yard. However, you must make sure your groups of perennials, shrubs and trees have plenty of room to spread and grow or they will look coked out and overgrown in a short time. BDH Landscaping creates plans based on mature growth to maximize your plant life with the added benefit to your budget by not overselling plant material – more than you need. An overcrowded landscape competes with itself for food and water. Remember – "1st year it creeps, 2nd year it creeps, 3rd year it leaps"
Zoning out – Do not be seduced by catalog plants that look gorgeous on paper but are not suited to your hardiness zone. You will wind up with plants that die prematurely or demand constant maintenance in drought and cold weather. BDH; Landscaping plans a design based on the hardiness zone of our area to create a lifetime of growth and low maintenance for your front yard
More of the same – Resist the design temptation to carpet-bomb your yard with your favorite plant or shrub. This will create a boring, monochromatic landscape. Worse, your yard will look great when your favorite plant is blooming, but will look drab the rest of the year
Conclusion:
Remember, your front yard gives visitors their first impression of you and your home. By working with BDH Landscaping, we will create a landscape with strong curb appeal – one that is unified, balanced, in harmony with your home and the neighborhood and, at the same time, a unique reflection of you and your lifestyle.
Front Yard Landscaping Houston