Houston Landscaper Designer
Landscape Installation Services for Houston, Cypress, Spring, Tomball, Katy, River Oaks, West University, The Woodlands, Conroe, Magnolia, Sugar Land and North West Houston Areas
The design process is probably the most important investment of the landscape package. Houston landscaper should complement the architectural features of your home and the layout of your land. The plant materials must take into consideration the environmental conditions – temperatures, sunlight, water availability, soil ph, and the deer. In every case the specific desires of the owner must be given extreme consideration. If all of these variables are considered, the plants will thrive,, the landscape will be visually appealing and the customer will be satisfied. In the process of creating the design, we will make every effort to work with you the customer until the design meets all these criteria.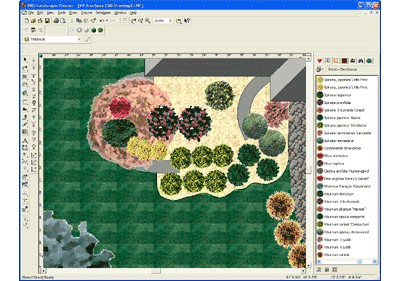 BDH Houston landscaper designs professional landscape layouts using CAD based computer program. We can begin the design by downloading a plot plan from your architect or your closing papers. We scan that layout into our program. From the scaled plot plan we can draw in beds, create specific measurements for the amounts of sod, mulch, and other materials needed. We then can add and arrange plants to meet the criteria above. After the rough draft is presented, changes can be made simply by deleting, adding or rearranging plants and layouts of the design. When the design process is complete, the program will automatically create a list of materials needed and generate a cost proposal.
A quality landscape starts with a quality landscape design. You can choose to select the design services of BDH is a Houston Landscaper Designer, or use a third party landscape designer. Either way, a good landscape design is drawn to scale and has thoughtful horticultural knowledge built into the plans. This step is paramount in ensuring long-term customer satisfaction. For the same reasons you would not build a home without plans, it is important to put detailed planning into your landscape.
Our initial consultation is free of charge. Simple designs are also free. For a more comprehensive design, the fees start at $250. If you choose BDH Houston Landscaper to install your landscaping, we will deduct that payment from the landscaping quote. Consultation can be a good place to start for someone who is looking to get new ideas, or answer specific questions on existing landscapes.
Our design work begins with a consultation at your home to hear your objectives, your likes and dislikes and to evaluate your property in terms of sun/shade, drainage, etc. We want to discuss what you are trying to achieve, your future needs, and to give you a chance to meet us. Our installation techniques follow the highest standards in the landscape industry. By using only the highest quality soils, fertilizers and mulches, we are able to create a growing environment for your new landscape that ensures healthy, lush growth for years to come. Attention to detail and high standards are our trademark in serving you.
Houston Landscaper Delivers Quality Installations
BDH Houston Landscaper does not do shoddy work. We give personal attention to two main factors in the installation process: preparation and quality of materials. In regards to lawn preparation, we insure that the soil is graded smoothly and enough soil is brought in to establish a good depth for water retention prior to laying the grass sod. When preparing the beds, we prefer to create raised beds for the plant materials using a quality landscape mix. This will provide good drainage and encourage vigorous plant growth.
We also prefer to use plants, purchased from local nurseries, which are usually more suitable for this area than those purchased from larger retail chains. Root stimulators will be also be applied to encourage quicker establishment and healthier plants. However, due to the extreme threat of deer in some areas, we can not guarantee against foraging, even using the most deer resistant plants.