Welcome to BDH Houston Landscaping Services
Houston Landscaping Services : We provide high quality, professional landscaping design, installation and maintenance services in and around the Greater Houston area. If you are looking for a stunning landscape for your home or office, please contact us for a no-obligation assessment and quote. View our photo gallery of landscaping projects.
August 8, – bdh Landscaping – Client Testimonial – Affordable Landscape Design References Upon Request
"When I got home yesterday I could not even believe that was my yard. The first word out of my mouth was simply……. "WOW!!" It turned out even better than I had expected. I wanted to stay outside all evening just to enjoy it. The plants are amazing and the stacked stone is awesome, looks exactly like I wanted it too. I couldn't be more pleased. The neighbors have already been over and they love it too.
Thank you so much for all your hard work and patience while waiting on the HOA approval. We will definetly give you a call when we get ready to tackle the back yard.
Thanks again,
Mary and Lee T"
Return on Investment: Houston Landscaping Makes You Money
Most all homeowner improvements will directly increase the resale value of your home. Whether it's a new kitchen or new siding and new roof, you will get back your investment when it comes time to sell your home. However, most of the time, people overlook one of the most important aspects of home improvement. Yes, it's landscaping. When people decide to renovate their homes, landscaping is always at the bottom of the list. Read more.
Award-winning Houston Landscaping Designs & Affordable Landscape Designer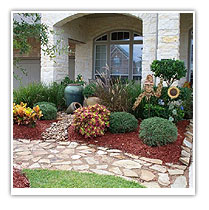 Houston Landscaping works closely with you to realize your dream landscape design for that stunning front or back yard. Our landscape designs / installations have been awarded "Yard of the Month" by local homeowners associations in over 70% of the jobs performed in 2014. With our knowledge and your dreams, BDH can turn your yard into an elegant accent to your home. Come read some customer testimonials about our work.